Staff from independent builders' merchants Boys and Boden and plumbing merchants The Plumbline have got up to speed with the latest in tile adhesive and grout technology from Dunlop – the specialist manufacturer of tile adhesive, grouts, finishing and decorating products.
Counter staff from the independent chain, which has branches across the Welsh Marches, took part in two days training at Dunlop's state-of-the-art Innovation and Technology Cen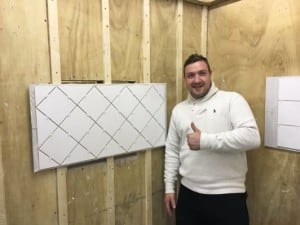 tre (ITC) at its Stoke-on-Trent HQ.
Led by Gareth Birks, Dunlop Technical Support Manager, the bespoke course included theoretical presentations and hands-on practical workshops on Dunlop tile adhesives, grouts and other tiling products including its new Pro Cover uncoupling mat system and Shower Waterproofing Kit.
Steve Wood, Training Manager at Boys and Boden, said: ""At Boys and Boden we understand the importance of having staff who are skilled and have extensive product knowledge. This is what makes Boys and Boden stand out from the crowd. Boys and Boden would like to thank Dunlop for providing such an excellent course which included both the theory and the practical application of your excellent product range."
Gareth Birks added: "Training is a key priority at Dunlop, and we believe it is important to give merchants and their staff the opportunity to learn about our products and enhance their skills, which will ultimately give them the confidence to sell more effectively.
"As such we were delighted to welcome the staff from Boys and Boden and The Plumbline to our ITC for two fantastic days training on all our tiling products available to the trade. Everyone mucked in and got involved and it was great to see them leave with a smile on their faces and a buzz about our products."
All courses for retail staff are free and include practical and theoretical training on tile types, background preparation, fixing methods, products and more.
Retailers have the option to pick and choose the modules that suit their requirements, ensuring that their training experience is tailored to meet their needs.
On completion, all delegates will receive a selection of Dunlop merchandise.
Debi Boulton, brand manager at Dunlop said: "Merchants should take advantage of these courses to give their staff the best opportunity to sell better, helping to increase margins and market share".
"Not only are our courses free, merchants can tailor courses to meet the needs of their staff. Thanks to our flexible approach, we can build half day, full day or even two day courses. Get in touch now to see how we can help you."
For more information on Dunlop's extensive range of training courses, costs and available dates merchants should contact their Dunlop Area Sales Manager, call 01782 591100 or email training@building-adhesives.com