Don't know where to turn to for advice on your next job? Well don't worry, help is at hand with @Dunlopman – Dunlop's very own superhero.
Dunlopman – aka Gareth Birks, National Technical Support Manager – is the perfect person to answer your tech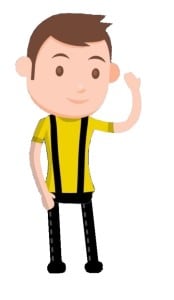 nical queries whether it's on tiling or decorating preparation with Dunlop Pro Décor fillers and smoothers.
And now it's easier than ever to get the answers you're looking for. Simply log-on to Twitter, follow @DunlopProDecor and @DunlopAdhe
sives and ask Dunlopman your questions using #AskDunlopman.
Gareth will then respond to your query with the best Tweets being turned into helpful tips and advice on the Dunlopman blog on Dunlop's ne
w responsive website
www.dunloptrade.com.
Gareth said: "If you've got a query, don't be afraid and ask away and I'll do my upmost to give you the best technical advice so you can get on with the job at hand."
Debi Boulton, Sales and Marketing Manager at Dunlop, said:
"You won't find anyone more technically qualified to answer your practical tiling or decorating preparation questions than Gareth Birks, who's well known in the industry for his trusted advice.
"#AskDunlopman, the Dunlopman blog and our new Live Online Chat facility at dunloptrade.com have all been developed in response to customer demand and give everyone, whether they're tradesmen or merchants, the ability to speak directly to our experts and get the answers they're looking for."
Launched last month, Dunloptrade.com combines all the great elements of Dunlop's previous websites – dunlop-adhesives.com and dunlop-decorators.com – and provides a host of great new features for builders, decorators and merchants including Live Online Chat, new and improved Job Build tool, "how-to" video guides and more.
All of Dunlop's tiling products are supported by a 10-year guarantee and a dedicated technical helpline is operational in case any questions arise whilst on the job. For more information please visit www.dunloptrade.com call 01782 591160 to speak to a member of the Dunlop team.
Keep up-to-date with Dunlop's latest news by following us on Twitter at https://twitter.com/DunlopAdhesives / http://twitter.com/DunlopProDecor or liking us on Facebook at http://www.facebook.com/dunlopadhesives.