Fourteen-year-old multi-skill student Kenneth Sylvester from Doncaster College has been named as the overall winner of Dunlop's Multi-Skill Champion Competition 2016.
The competition was launched by the pioneering manufacturer of tile adhesives, grouts and decorating products as a way to celebrate and recognise the best multi-skill tiling and decorating students in the country.
Eighteen stude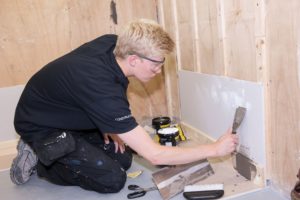 nts aged from 14 to 40 from FE colleges across UK providing the City & Guilds Construction Skills qualification (6219) competed against each other in a series of tiling and decorating tests at the competition's Grand Final which was held at Dunlop's Innovation and Technology Centre in Stoke-on-Trent on Thursday (16th June).
Following the rigorous assessment, Kenneth was declared the winner and presented with the winner's trophy and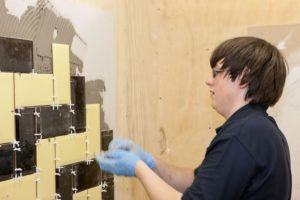 approximately £1000 worth of tiling and decorating tools, products and equipment, kindly donated by sponsors Bellota and Coleman Brothers.
After being named the winner an emotional Kenneth said: "I'm absolutely speechless, I don't think this will sink in for a long time. I just can't put it into words what means for me, it's the best thing I ever done.
"Doing the multi-skill course at the college and taking part in this competition has been amazing. I've enjoyed every minute of it, and I just got the hang of it so quickly. It's definitely something I want to do when I finish college.
"I just want to say a big thank you to Mark Adams, my tutor, because without him I would never have won this competition."
Gareth Birks, National Technical Support Manager at Dunlop said: "This is the first time we've run this competition and the interest has been amazing. We've been teaching in colleges for many years and thought this would be a great opportunity to recognise student's skills while familiarising them with our range of Dunlop tiling adhesives and decorating fillers and smoothers.
"Congratulations to Kenneth who despite his relatively young age was a deserved winner, showing great skill and application, and to all the other competitors for taking part."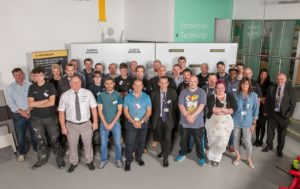 Debi Boulton, Dunlop Sales and Marketing Manager, added: "The Dunlop Multi-Skill Champion competition was a great chance for construction skills students across the country to test their skills against their peers and win tools and product to give them a good start in the construction industry.
"Multi-skill students are often o
verlooked and under supported compared with other trades, but with the help and support of suppliers like Dunlop we can ensure they are given the tools and training to succeed in their chosen careers."
Grand Final competitors were judged by Dunlop Training Manager and national SkillBuild judge Dave Rowley and Wayne de Wet, the award-winning professional decorator, consultant and industry expert.
Dave said: "The quality of work the students produced was to a really high standard. Choosing a winner was an incredibly difficult task, so congratulations to Kenneth for coming out on-top and to all the other competitors for a truly great day."