For many years tradesmen have been searching for a brilliant white, rapid drying deep filling compound that can be shaped and carved to repair traditional co
ving or features.
With this in mind Dunlop, specialist manufacturer of adhesives, grouts, and decorating products, has developed Deep Filling Compound with Hydroloc™ an innovative product that allows projects to be completed in hours rather than days.
Dunlop Deep Filling Compound with HydrolocTM is perfect for repairing internal surfaces with large, deep areas of damage such as cable chases, pipe outlets, doors and window frames without the need for priming.
The filler can be applied up to 80mm in one application and can be cut and shaped after only 45 minutes making it perfect to repair that hard-to-replace heritage coving or ceiling feature.
What's more thanks to its i
n-built HydrolocTM technology, this easy-to-apply product won't shrink or slump and is paintable in just 2 hours!
To see HydrolocTM in action, check out our YouTube video.
Debi Boulton, Sales and Marketing Manager at Dunlop, commented:
"Our Pro Décor range offers the very best products on the market to tradesmen, and the Deep Filling Compound wit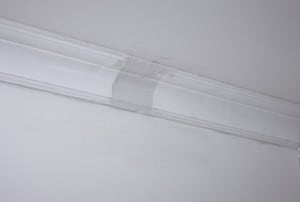 h HydrolocÔ is no exception. The compound can be cut and shaped after just 45 minutes and painted, drilled or wallpapered in only two hours, ensuring jobs can be finished quickly whilst maintaining quality and traditional features.
"The pioneering HydrolocÔ system means the compound dries by chemical reaction rather than water evaporation, ensuring it dries evenly throughout at any thickness. The Dunlop Deep Filling Compound is a real industry innovation, and is becoming a firm favourite with decorators and tradesmen across the country."