Jason Skitt from Walsall College has been named as Dunlop's Multi-Skill Champion 2017 after triumphing in a number of construction tests.
The Dunlop Multi-Skill Champion Competition is the only one of its kind in the UK to recognise students across the UK taking the City & Guilds Construction Skills (6219) qualification.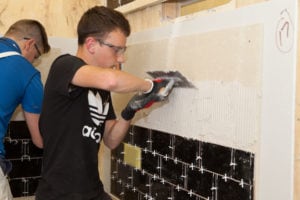 The competition organised by the pioneering manufacturer of tiling, decorating and flooring products for the trade – supported by NoMorePly® – celebrates and supports students who are looking develop their practical skills before entering the construction industry.
Eighteen college students from across the UK took part in tiling, decorating and carpentry challenges at the competition's Grand Final which was held at Dunlop's Innovation and Technology Centre in Stoke-on-Trent on Thursday (15th June).
Following challenges Jason was named the winner and presented with the winner's trophy and approximately £1000 worth of tools and equipment kindly donated by a number of brands including;
Redbacks Kneepads, Stakrak, Jobman, Picasso Brush, Obvious Solutions, Roller Squeegee, MarXMan, Catapiller, ZipWall, Gripper Cloth, LadderLimb, Big Wipes, Home Strip, Cyklone, Go!Paint, SureTile, Wallrock, Coral Tools, Buddy Tools, Drill Bit Kit, Raptor Wrap and Marcrist Tools.
On being named the champion Jason said: "I'm very surprised to win! I really didn't expect it, but I tried my best and it's played out so it's great.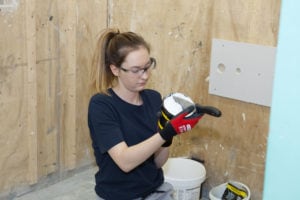 "I've just signed up for Level 3 BTEC in Construction Skills which starts in September to build on the 6219 course which I have really enjoyed.
"When I finish my course I hope to go into property surveying or something like this and hopefully it pans out – but this is a great start for my career!"
Debi Boulton, Dunlop Sales and Marketing Manager, said: "Congratulations to Jason who was a deserved winner of the competition.
"The Dunlop Multi-Skill Champion competition is a great chance for construction students across the country to test their skills against their peers and win tools and products to give them a good start in the industry.
"Multi-skill students are often overlooked and under supported compared with other trades and there is no equivalent national competition for them. Multi-skill traders play a vital role in construction in this country, and with the current skills shortage, supporting the next generation is vital for everyone in the industry."
Grand Final competitors were judged by Dunlop Training Manager and national SkillBuild judge Dave Rowley, Wayne de Wet, the award-winning professional decorator, consultant and industry expert and Nicola Butcher – aka "The Female Chippy" – a multi-award winning carpenter.